For more than four decades, Commercial Door Products has distributed and installed commercial doors and hardware throughout the Southeast.
Click on any of the manufacturers below to find out more:
 .

Since the early 1800's, Corbin Russwin has produced high-quality, innovative door hardware for commercial and institutional facilities. Corbin Russwin, an ASSA ABLOY Group brand, remains a leader in locks, key systems, exit devices, door closers, decorative hardware and electronic access control.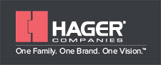 At Hager, we are committed to being your one source for full line door hardware. We stand alone as one family and one brand. We create products that make a difference in one community at a time, while being mindful of the one planet we all share.

For over 90 years, BEST has built a reputation as a premier provider of high quality mechanical access solutions featuring the interchangeable core and Masterkey system. Stanley Security Solutions is more able to serve its customers through expanded programs that provide creative system design, innovative product solutions, personal sales consultation & nationwide installation and maintenance assistance.
.

Bommer Industries Builders Hardware Division continues the trademarks of quality and innovation that were founded in 1876. The Bommer brand has been the original standard of excellence for over 125 years. Bommer offers a complete line of Architectural Grade Butt Hinges, Continuous Aluminum Geared Hinges, our industry leading line of Single Acting Spring Hinges, the world renowned Double Acting Spring Hinges, Specialty Door and Gate Pivots, and high quality Lavatory Hardware. When you specify and purchase Bommer products, you can be assured they are "Made In USA."
.

Anemostat is the largest manufacturer of metal vision frames and door louvers in North America. Although our roots come from over seventy-five years in the Air Distribution / HVAC business, our Door Products division has been the leader in product quality, engineering and development for over forty years.

Foldger Adam & HES offers electric strikes and locking device solutions for every application. Choose from the low profile, fire-rated 4500 or the 7000 that handles pre-load or the versatile 1006 that can do it all to the newly re-designed 9600 surface mounted, windstorm rated electric strike.

HES offers electric strikes and locking device solutions for every application. Choose from the low profile, fire-rated 4500 or the 7000 that handles pre-load or the versatile 1006 that can do it all to the newly re-designed 9600 surface mounted, windstorm rated electric strike.
.

Medeco® locks protect U.S. government and military installations, both here and abroad, as well as schools and universities, hospitals and banks, vending machines and parking meters, homes and offices, and much, much more. Founded in 1968, Medeco® is a market leader in locks and locking systems for security, safety, and control. The company's customer base includes wholesale and retail security providers, original equipment manufacturers, institutional, commercial, industrial, and residential end-users.
.

McKinney Products Company designs and manufactures high quality architectural hinges for commercial use. With roots in Cincinnati OH, McKinney manufactured in the heart of the Pennsylvania steel industry for many years. McKinney became an ASSA ABLOY Group company in 1996. With the resources of ASSA ABLOY, McKinney greatly expanded the research and development, and manufacturing capabilities. These capabilities have had the greatest impact on improving custom hinge manufacturing.
.

National Guard Products is known as a leading manufacturer of weather-stripping, threshold products, lite kits, louvers and glass for commercial wood and steel doors. Founded in 1935 NGP has become an ever advancing industry innovator, manufacturing a complete line of door seals, door thresholds, gasketing, intumescent fire seals, smoke seals, sound seals, door sweeps, door shoes, automatic door bottoms, lite kits, louvers, metal edges, astragals and finger guard products.
.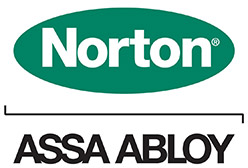 Norton is the leading manufacturer of commercial door closers since 1880. Our products are used in schools, hospitals and businesses around the globe.
.

RIXSON Specialty Door Controls offers customized solutions for challenging design requirements. It is the leading North American provider of concealed closers, pivots and mechanical/electromechanical door holders. The ASSA ABLOY Group is the world's leading manufacturer and supplier of locking solutions, dedicated to satisfying end-user needs for security, safety and convenience.
.

Rockwood's product line includes custom and standard door pulls, push and pull bars, door stops and bolts, protection plates (kick plates), and a variety of specialty door trim hardware for commercial buildings. Our product catalog includes our standard products but much more is available. A wide variety of out-of-production items and custom fabrication is readily available. Rockwood products are normally used on all types of institutional buildings, offices, retail, educational, detention, sports facilities, hotel and restaurant, and finer residences. We distribute our products through contract hardware distributors who sell to the commercial construction market. Independent sales representatives are located throughout the United States who support our customers, architects, and specification writers.
.

Since coming under the ASSA ABLOY umbrella, SARGENT has focused on refining their manufacturing processes, along with the development of new and innovative products. Today's manufacturing plant is made up of five different factories or "Profit Centers", each producing items particular to their product line (e.g., bored locks, mortise locks, closers, exits, cylinders, or, Production Services – supplying production/ support services to other profit centers). Unlike batch production/ "push" techniques of the past, today we produce "what we need, when we need it, "pulling"product through the factory in a theoretical one-piece flow. Manufacturing areas are centered around production-area configured "cells"; cells generally set-up by the Profit Center employees in a way that will link operations. This joining minimizes material transportation and work-in-process inventory, while fostering maximum efficiency. Complementing the efforts to improve overall efficiency and product quality, has been an aggressive capital expenditure program allowing for sophisticated machine tool purchases to be integrated into the manufacturing process.
.

As the world's premier supplier of electric locking systems and access control components, Securitron, an ASSA ABLOY Group company, excels in manufacturing a wide range of products, from electromagnetic locks and accessories, to exit devices, power supplies, digital entry systems and much more. Securitron is known for its continued commitment to excellence in customer service and product quality.
.

Trimco continues to be a trusted leader in developing products for the most demanding environments. Our expansive portfolio has many unique, patented solutions designed to address real life problems. Most of our products are manufactured in the USA to the highest quality standards while maintaining competitive prices. With four convenient distribution points across the U.S., you can get your Trimco products quickly.
.

Yale Locks & Hardware has provided dependable security since 1840. Yale Locks & Hardware is an ASSA ABLOY Group company with plant operations in Berlin, CT. The company offers a broad continuum of door hardware and locks including an extensive range of mid-tier commercial products as well as a wide variety of residential hardware options. This includes an extensive range of mortise and cylindrical locks, exit devices, door closers, electromechanical products and key systems, as well as windstorm certified hardware, decorative levers, and photoluminescent and antimicrobial hardware coatings.